Foldable Electric Scooter | Glion Scooter Review
The Glion Dolly is a foldable electric scooter for adults.
It is uniquely suitable for multi-modal travel, combining different types of transportation (e.g. kick scooter, trains, buses, cars) in a single trip.
Some of its key features include:
Silent Motor
A powerful rear hub motor that transports you up to 25km/h.  Electric brake is located within the hub motor.
Strong Airless Tires
8-inch military technology honeycomb tires.  You don't have to worry about flat tires.
Retractable Handle and Trolley Wheels
Easy to roll the folded electric scooter wherever you go.
Vertical Self-standing
The folded scooter can stand vertically on its own.  Very small footprint required for storage.
The Plus:
Easy Operation
Anyone can quickly master the simple, elegant Glion Electric Scooter.
On the right, a twist-grip accelerator makes it go; on the left, a twist-grip brake makes it stop.
Maintenance Free
Minimal maintenance required.  Just charge it regularly (like a mobile phone).  Occasionally, clean off road grime that might have accumulated.   The strong honeycomb tires are not air inflated.  No worries about getting a flat tire on your ride.
Fast Fold
The Glion foldable electric scooter can be collapsed quickly in 1 minute.  This allows you to quickly continue with your next activity, like catching a transit train or bus.
Roll Instead Of Carry
After folding the scooter, the dual mini-roller wheels and retractable dolly handle allows you to simply pull the electric scooter anywhere you like to go.  For example, you can easily tug the scooter within the transit train station to the train platform.  You don't have to get tired carrying the full load of the scooter on a long walk to board a train.
Space Saving
Because the folded electric scooter can stand vertically on its own, you use minimal storage space to park it at home, work, or any place you choose to bring it to.
Board Crowded Transport
It is convenient to board a packed train with this motorised kick scooter.  You don't have to carry the scooter while you travel on the train.  Just stand it on the floor, grip on to avoid accidental toppling, in case of a jerky journey.  A scooter cover is available to put on and avoid annoying other passengers with dirty wheels.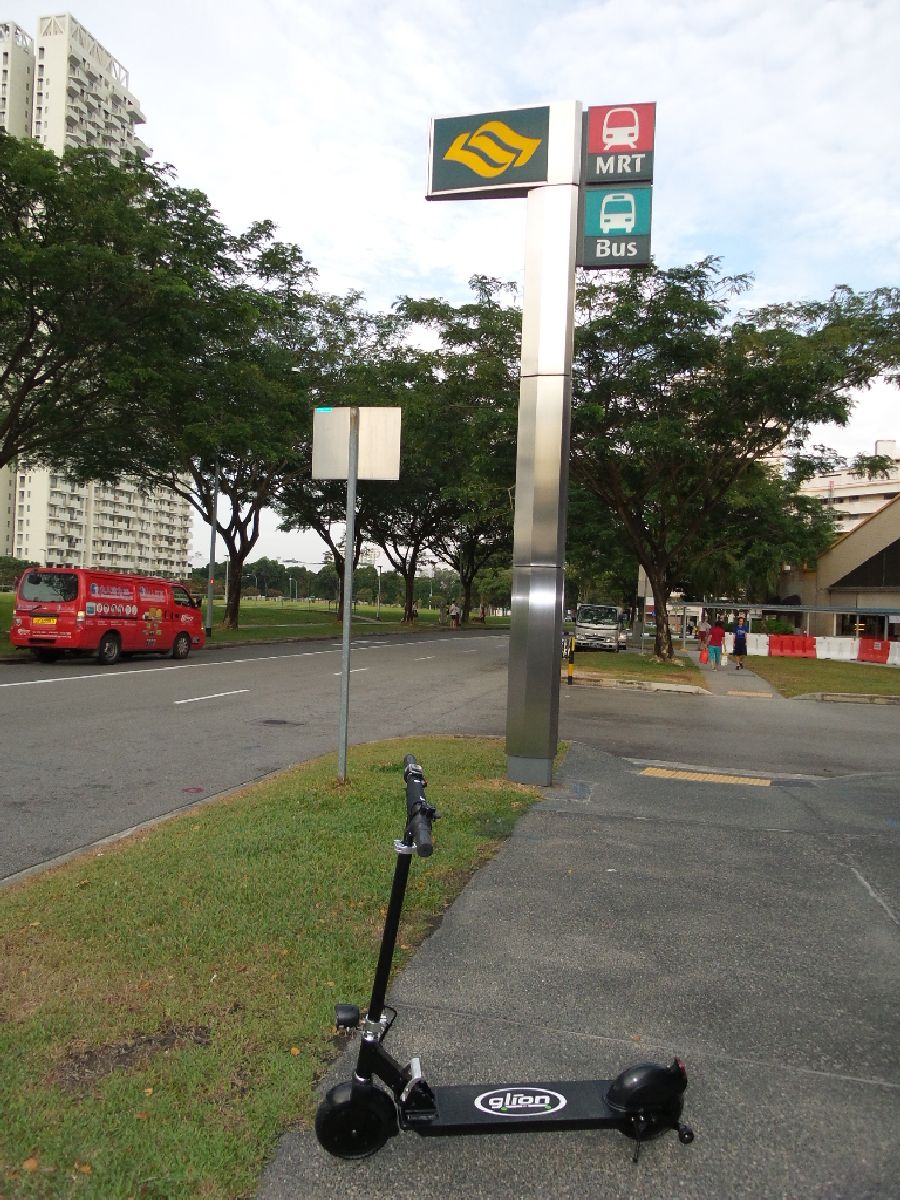 The Not So Ideal:
No Rear Light
This electric scooter has a front light and a rear reflector.  It would be ideal if there is a built-in rear light for added night time visibility and safety.