Sports Eyewear | Cocoon Fitover Sunglasses Review
Review contributed by Josh.
Summary
Cocoons polarized fitover sunglasses are designed to securely and comfortably fit over a wide range of prescription eyewear frame sizes and shapes.  These sunglasses also are suitable for people who do not wear spectacles.
As I wear spectacles, one of the considerations I have is what kind of sunglasses to get for my outdoor activities like scooting and cycling.  I wanted to find sporty sunglasses.  Furthermore, being very practical, I wanted the sunglasses to be multipurpose, so that I can also use them when driving.  So I tried clip-on sun shades, transition lenses (which do not work in cars due to UV protection coated windows).
I thought about getting sports eyewear with prescription lens inserts.  These could range from S$300 to S$800 for quality ones.  However, some of the lens inserts are quite small and could potentially restrict my field of vision when riding.
My explorations eventually led me to Live Eyewear, a US based company, specialising in fitover sunglasses.  These sunglasses are designed to wear securely and comfortably over your prescription spectacle frames.
They have two range of fitover sunglasses : Cocoon and Vistana (More sporty looking in my opinion)
Frame Style
Various shapes and sizes, from small to extra large
Choice of colours from black, tortoiseshell, sand, ink, burgundy, slate or ivy frame.
Frame Material
Soft Touch Frame Finishes: Comfort and durability.
Frame Temple
Flex2Fit Adjustable Temples: Comfort with a custom fit for each wearer.
Frame Design
360° of Protection: Unlike imitation fitovers, Cocoons patented frame designs block damaging UV light and glare from all angles (top, bottom and sides), completely isolating the eyes in a cocoon of filtered light.
Lens
Polycarbonate Polaré lens system that exceeds the highest levels in lens quality for optical clarity and performance.
100% Polarized UVA&B Protection.
I used my first pair of Cocoons for over 10 years.
The Plus:
FIT
Fits comfortably over my prescription spectacle frame.
Frame Design
The frame design blocks out sunlight from the top, sides and even sunlight reflected from the bottom.  It is like my eyes are cocooned within a world of their own.  Especially when scooting or cycling, it blocks out crosswinds that I usually encounter when wearing just spectacles.  So my eyes get protection from wind, road dust and occasional flying twigs.
Lens Colour
I prefer grey lenses.  I frequently use the Cocoon fitover when driving.  Good clarity and filters out the sunlight glare for safer driving.  The lenses are distortion free.  My eyes feel relaxed.
The Not So Ideal:
Frame Design – Side Shield
The Cocoon has side shields for filtering light rays that come from the left and right sides.  It has a "side beam" that might become a blind spot blocking your peripheral view while riding.  So be careful to turn your head to watch out for traffic obstructed by this "side beam". One alternative is to get the Vistana range of fitover sunglasses.
Future Spectacle Upgrades
Initially I bought a pair of fitover that just closely fit over my prescription spectacles frame.  When I needed to change my prescription spectacles, I find to re-use my fitover sunglasses, I now search for prescription spectacle frames that can match within the frame size of my fitover sunglasses.  Becomes a little restriction on the type of prescription spectacle designs that I choose.  Can be solved by buying a bigger fitover sunglasses though.  It's a matter of personal preferences; what kind of sunglasses look one desires to be dressed in.
I used my first pair of Cocoons for 10 years and decided I enjoyed them so much that I went out to buy another 6 pairs.  A couple in different shades for my own use and some to give away to family.  I find it is a thoughtful gift.  With the harmful effects of UV rays from the sun and many people getting eye cataract at younger ages, there is a need to take precaution to protect our eyes.
Left : Cocoon Mini Slim (MS) Frame Sand / Photochromatic Lens 
Right : Cocoon Slim Line (M) Frame Sand / Grey Lens.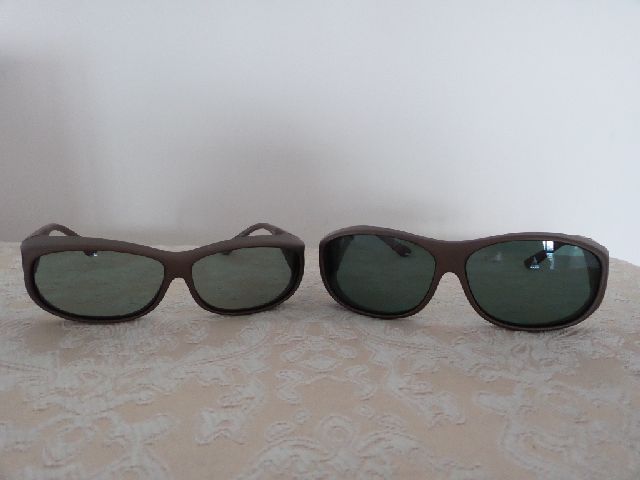 However hash the outdoor environment, Cocoon sunglasses enclose your eyes in serenity and comfort.  Regardless whether you wear spectacles or not, if you are looking to purchase a pair of sports eyewear or sunglasses, I highly recommend you to consider owning a pair from the Cocoon range.